Dennis's Dad

Dennis' dad, in the 2013 series.
Species
Human
Gender
Male
Hair
Black
Relatives
Mum (wife)
Dennis (son)
Bea (daughter)
Granny (mother)
First appearance
The Beano #452 (17th March 1951)
Voiced by
John Baddeley (1996)
Rob Rackstraw (2009)
Chris Johnson (2013)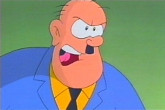 Dennis's Dad is the unnamed father of Dennis the Menace. He is the longest-running dad in the Beano comic and appeared with his son in the first ever Dennis the Menace strip in 1951. He now looks a lot like his son after receiving the parental makeover from Gok Wan in 2012.
Dennis's dad, like the other dads, along with Plug's dad, Spotty's dad and Minnie's dad. He used to punish his son with the slipper, but this has since been phased out. He is married to Dennis's mum.
In the animated series he has been voiced by: John Baddeley (1996), Rob Rackstraw (2009) and Chris Johnson (2013).
In the recent strips, he ran for mayor of Beanotown, but lost to Wilbur Brown, Walter's dad.
Appearance
Edit
He has a red and black polo shirt, grey trousers and red and white trainers.
Ad blocker interference detected!
Wikia is a free-to-use site that makes money from advertising. We have a modified experience for viewers using ad blockers

Wikia is not accessible if you've made further modifications. Remove the custom ad blocker rule(s) and the page will load as expected.