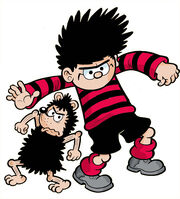 Dennis the Menace and Gnasher is a long-running comic strip in the British children's comic The Beano, published by DC Thomson, of Dundee, Scotland. The comic stars a boy named Dennis the Menace and his Abyssinian wire-haired tripe hound Gnasher.
The strip first appeared in issue 452, dated 17 March 1951, and is the longest-running strip in the comic. From issue 1678 onwards (dated 14 September 1974) Dennis the Menace replaced Biffo the Bear on the front cover, and has been there ever since.
Ad blocker interference detected!
Wikia is a free-to-use site that makes money from advertising. We have a modified experience for viewers using ad blockers

Wikia is not accessible if you've made further modifications. Remove the custom ad blocker rule(s) and the page will load as expected.