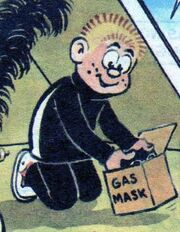 Lesley Presley Pretend is a character who has been appearing regularly in the Beano Comic since 1990. He first appeared in Beano No. 2493 (April 28, 1990). In each issue, Les pretends to be something and dresses up like it, beginning with a martian in his debut.
His dad is called Des (and is thus one of the few Beano parents to be given a name rather than 'mum' or 'dad'), an Elvis Presley fan and impersonator, hence Les' middle name of Presley.
Ad blocker interference detected!
Wikia is a free-to-use site that makes money from advertising. We have a modified experience for viewers using ad blockers

Wikia is not accessible if you've made further modifications. Remove the custom ad blocker rule(s) and the page will load as expected.