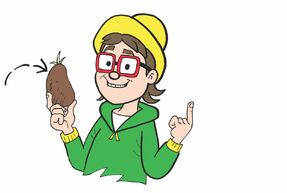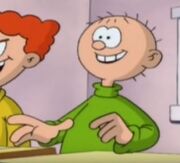 Peter, nicknamed Pie-Face, is one of Dennis the Menace's best friends (along with Curly), and is so called because of his obsession with pies. His favourite pies include meat pies, fish pies, cream pies and so on.
He was changed radically for the 2009 series; he now wears a short-sleeved T-shirt and is voiced by a woman (Morwenna Banks as of series 2 and Ian James Corlett in the US).
He was redesigned once again for the 2017 TV series and his beano appearance in issue 3902.

He is the owner of Paul the Potato.
Appearance
Edit

He has a bald head, a green jumper, orange trousers and blue trainers.
In 2009, he wore a green t-shirt, khaki shorts, white socks and brown trainers.
In 2017, he had brown hair, a green jumper and a yellow hat.
His name was originally Kevin.
Ad blocker interference detected!
Wikia is a free-to-use site that makes money from advertising. We have a modified experience for viewers using ad blockers

Wikia is not accessible if you've made further modifications. Remove the custom ad blocker rule(s) and the page will load as expected.